EWEP's Australian consultants rounded up the campaign of free seminars for Filipinos who wish to study and work in Australia during the last days of their stay in Quezon Province, the many residents from various barangays around the province who have signed up to pursue their studies Down Under are in high hopes for their ongoing college and student visa application!
Quezon Province was one of the selected provinces in the Philippines for EWEP to hold its series of free seminars on "How to Study and Earn at the Same Time in Australia". The criteria for selected provinces were based on the number of interested & enquiring students and professionals per province. With the outstandingly positive feedback EWEP had gotten from interested Quezonians, our consultants (who had come all the way from Australia to facilitate the free seminars) decided to include the province in the list.
Lucena City
Lucena City was the first stop in Quezon, with EWEP representative and Country Manager, Ms. Angela Sunga winning the enthusiastic cooperation of Barangay Uno Chairwoman, Hon. Herminia H. Abuel, who found our "Study in Australia" project to be a 'glimmer of hope' for residents in creating better life opportunities abroad, especially during these very trying times.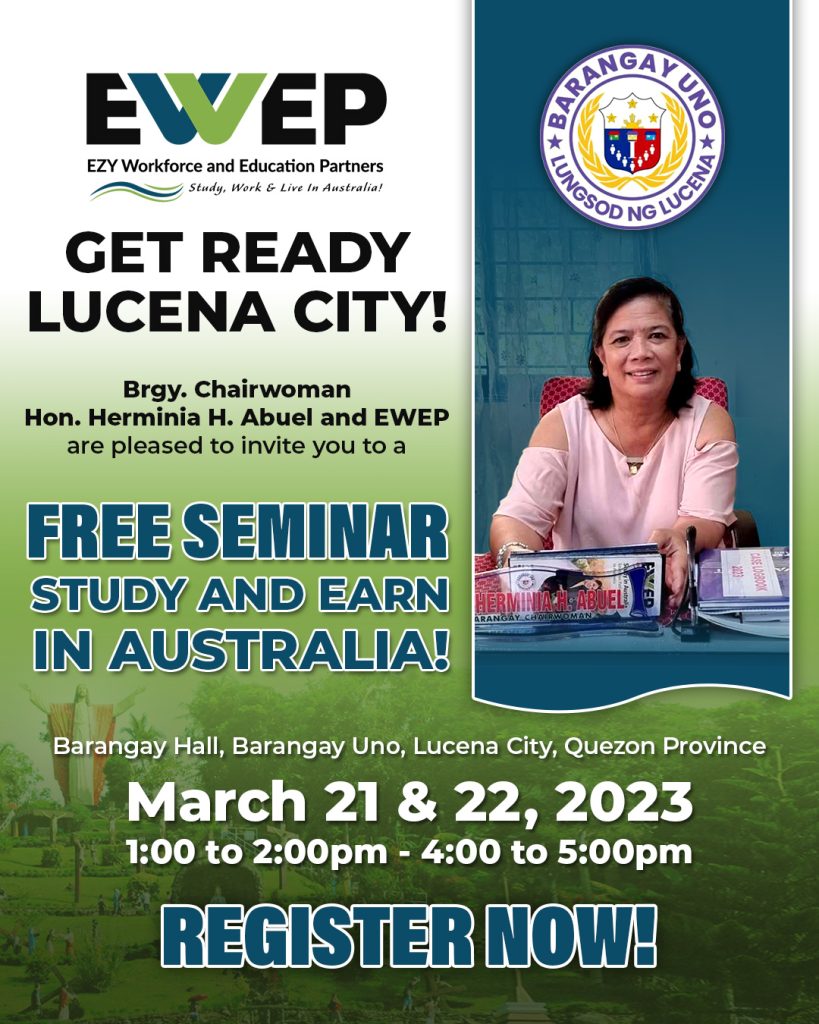 The gracious chairwoman immediately offered the Barangay Hall to hold our free seminars, actively promoted the seminars via social media posts, & encouraged all residents to educate themselves about studying in Australia by joining these seminars. As a result, seminar participation among residents was an overwhelming success, and the first batch of Quezonian student signups was accomplished!
Rotary Club of Metro Lucena
While seminars continued across barangays in Lucena City, our representative, Angela, moved on to present the EWEP campaign to the Rotary Club of Metro Lucena in hopes of winning even more support from the LGUs and NGOs of the city. With the support of community leaders gained, EWEP would be able to reach a wider audience among Quezon residents, as well as gain their trust in our legitimacy as Australian education consultants.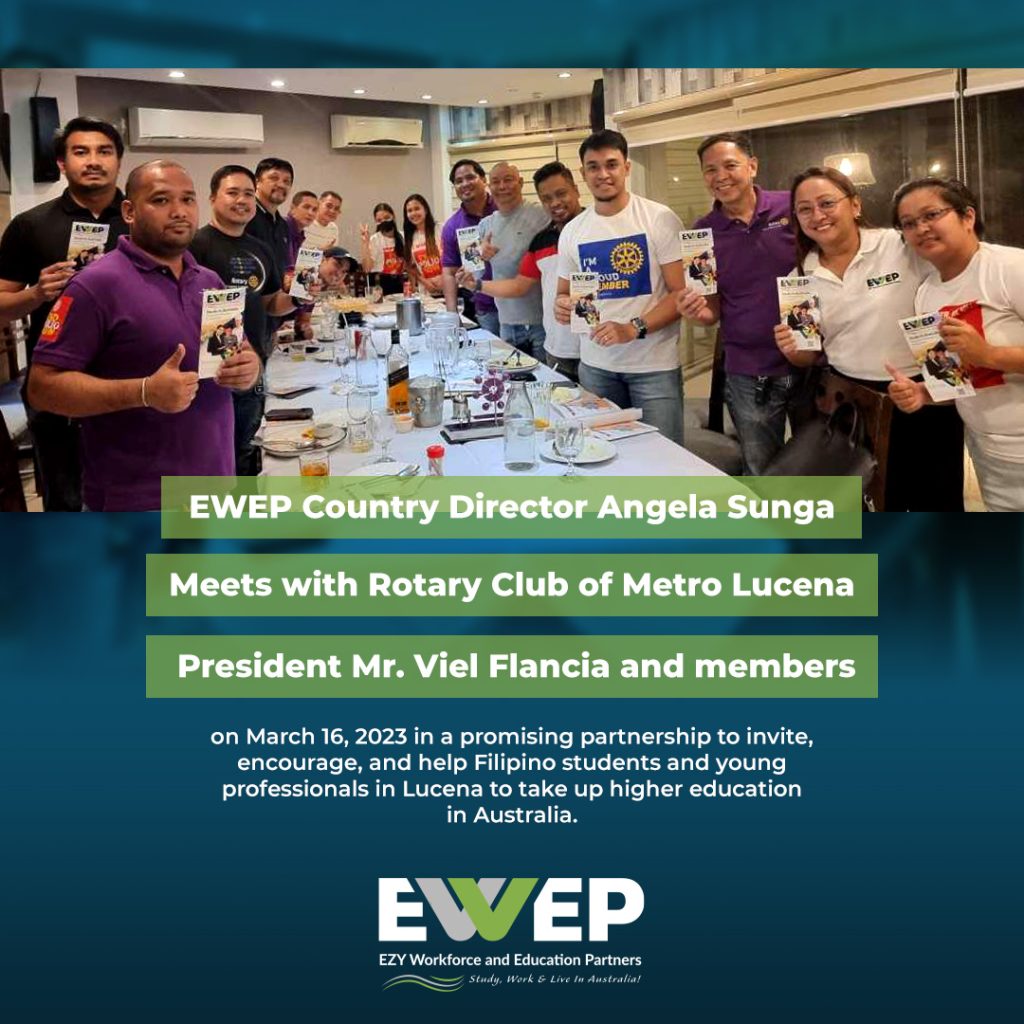 Hopes were not in vain as Angela was met with the same enthusiasm among the Rotary Club members that the barangay leaders had been showing! Well-known for its active community involvement and humanitarian efforts, the Rotary Club of Metro Lucena hailed EWEP's campaign as a wonderful opportunity for Lucena City residents to uplift their career and life opportunities through the pursuance of higher education in Australia. With EWEP's advice and hands-on assistance, including opportunities to make studying in Australia more affordable for aspiring Filipino students and young professionals, confidence was immediately given in EWEP by the Rotarians in fulfilling this goal.
To show even greater support, the Metro Lucena Rotary Club invited Angela to join them on their medical mission on March 19, Sunday in General Luna, Quezon. There, Angela had the chance to meet and present EWEP's campaign to another participant group of the medical mission, the Rotary Club of Bonpen Central Premier.
Once again, EWEP's campaign was received with great enthusiasm by the Bonpen Central Premier Rotary Club members, coupled with a promise to give their active participation & support in the campaign for the sake of Quezon residents. Like the Rotary Club of Metro Lucena, RCBCP found excellent potential for the Quezonians in pursuing Australian education.
Thus, with the help and all-out support of Quezon's LGU's and NGO's, EWEP was able to achieve what we had come to Quezon for: a widespread awareness within the province of opportunities to study in Australia with EWEP's help; and an excellent and continuously growing number of official student signups for the FIRST BATCH OF FILIPINO STUDENTS IN AUSTRALIA 2023!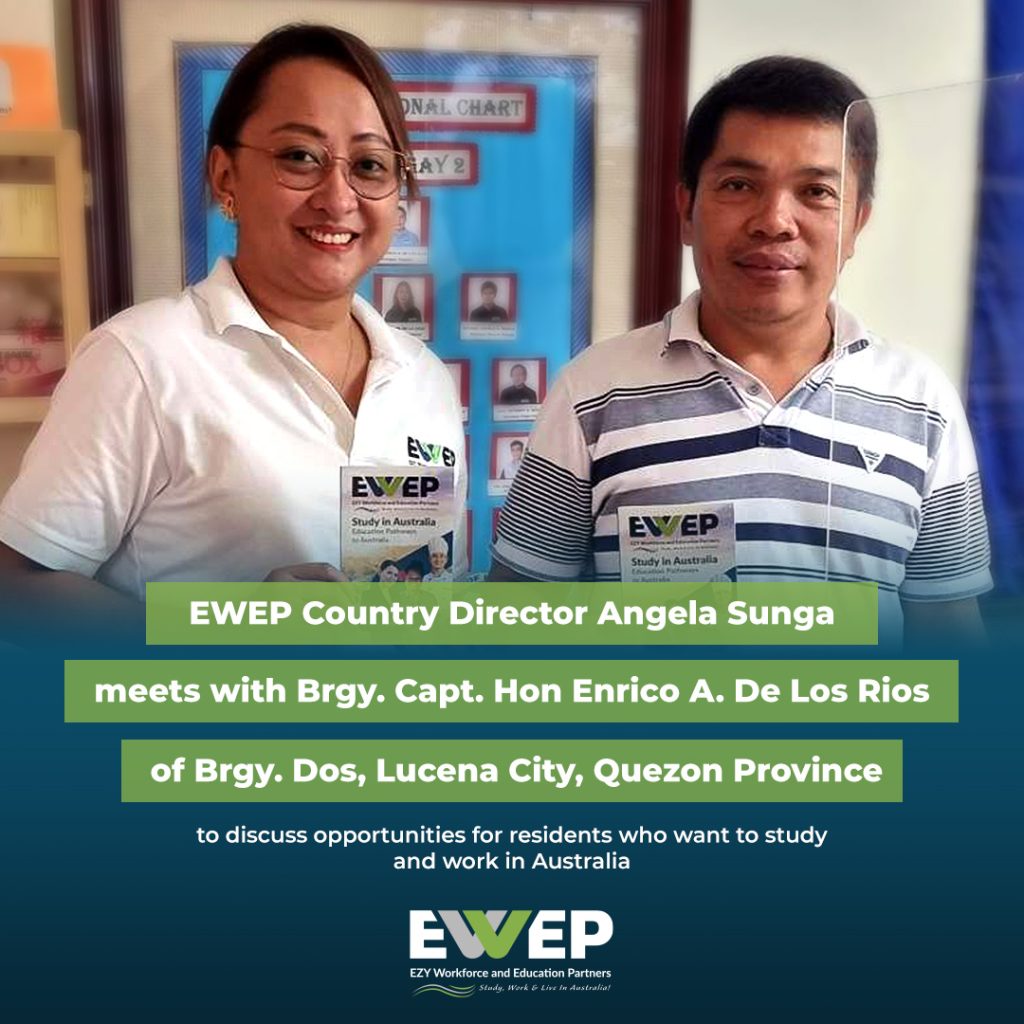 To date, all signups are in progress, as EWEP consultants continue to assist these future Australian students in submitting all their requirements in time for enrolment for the next semester of classes in Australian colleges.
Before we conclude this article regarding the exciting events that took place in Quezon Province, we would like to give our special thanks to key persons who have helped EWEP greatly during this campaign to reach an outstanding number of residents around Quezon!
Many thanks to Bgy. Uno Lucena City Chairwoman, Hon. Herminia H. Abuel; Rotary Club of Metro Lucena President, GSP Aaron Viel Flancia; Chairman, PP Rommel P. Juniar; PE. Bogsie Sanga for inviting us to present our campaign; and RCBCP President and General Luna City Mayor Matt Florido. Without your trust and support in EWEP, our Quezon Province campaign of free seminars would not have been such a huge success!Cheers to a future from hereon of a very promising partnership with you in helping to uplift Filipino students' future through Education and Working Student Programs in Australia      
Visit the website now: https://ezyworkforceandeducationpartners.com/
Phone: +61 419 200 663
+63 977 785 8746
Email: info@ewep.com.au