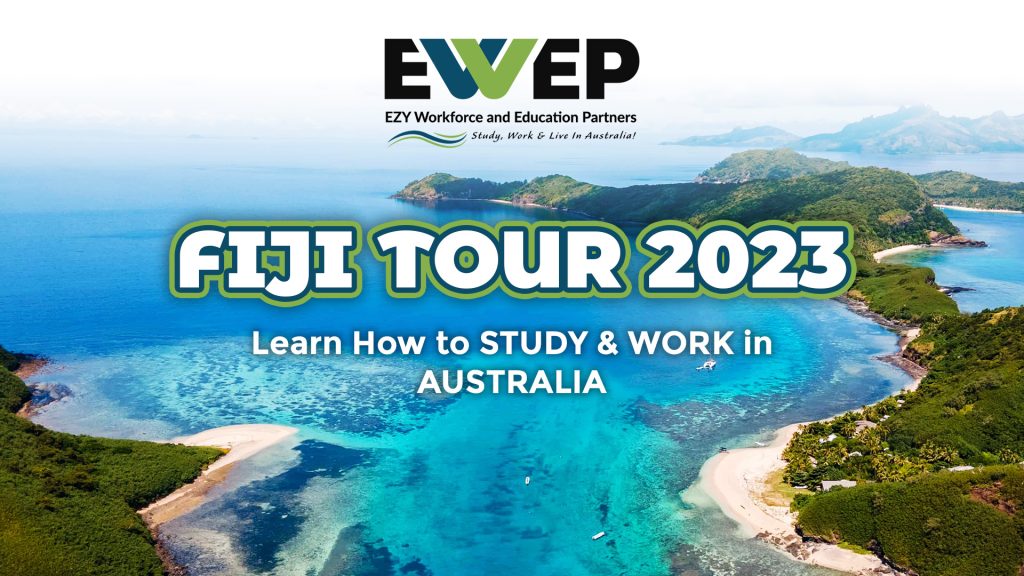 After a successful tour around the Philippines, garnering an overwhelming amount of seminar participants, interested applicants, and finally, signups who are now in the process of completing their requirements for studies in Australia, EZY Workforce & Education Parnters (EWEP) will be landing in Fiji to begin its lineup of FREE SEMINARS around the country… starting in Suva!
Just as we did in the Philippines, EWEP's education consultants plan to tour around Fiji facilitating seminars to interested Fijian students and young professionals about how to STUDY, EARN, AND LIVE IN AUSTRALIA.
WHAT WE DO
What makes EWEP's campaign unique from other education consulting firms is that the company strives to bring Australia closer to as many Fijians as possible, instead of limiting the opportunity to only the upper class or those who are financially comfortable to pursue Australian education. EWEP's aim is to bring this opportunity even to those of lesser financial capabilities but who are willing to support their education by working while studying.
At EWEP, aspiring students are assessed individually to find out their current skills and what they are capable of financially, so that solutions can be created to enable the student to study in a country with globally recognised education like Australia.
HOW WE HELP STUDENTS & FIJI STUDENTS IN THE FUTURE
Below are some of the major ways EWEP helps students get Australian education:
ü Offers LOW INITIAL DEPOSIT
ü Offers guidance on the right course and Australian learning institution for the student
ü Gives hands-on assistance in college requirements and Student Visa application
ü Provides earning opportunities via Australian partner businesses so student can earn while studying
ü Offers more affordable options for studying in Australia
Additionally, since there has been huge demand for the company's services, EWEP is now in the planning stage of establishing offices in Fiji. These offices will make processes even quicker and more convenient for those who sign up to study in Australia!
EDUCATION & CAREER PATHWAY IN AUSTRALIA FOR FIJI STUDENTS
At this point in time, there are several industries in Australia that have exceptionally high demand for workers, such as the Hospitality, Healthcare, and Early Education sectors. To take advantage of the worker demand in those industries, EWEP and affiliate Australian colleges have decided to actively promote courses that will qualify international students immediately and place them in high demand for the needed job roles upon graduation. Such courses/programs include:
Ø Certificate III & IV in Commercial Cookery
Ø Diploma of Hospitality Management
Ø Certificate III and Diploma of Early Childhood Education and Care
Ø Diploma of Social Media (Marketing)
Ø Diploma & Advanced Diploma of Leadership and Management
Ø Certificate III in Individual Support
Ø Certificate IV in Aging Support
To learn more about these programs, you may visit EWEP's website link: https://ezyworkforceandeducationpartners.com/programs/
As EWEP gets ready to tour Fiji, already phones are ringing off the hook with eager Fijians registering for the free seminars or booking phone and in-person appointments! It will be a very busy month for EWEP's team indeed!
Yet just like the success we met in the Philippines in the overwhelming number of applications which are now under process, we're hopeful that Fiji will receive us equally well. Most of all, we're hopeful that we can be a part of building the dream of world-class Australian education for many Fijians!
Cheers to the start of EWEP's journey through Fiji!
To learn about the upcoming seminar schedules in selected provinces around Fiji, get in touch with us now. Tour Dates and Important information regarding, time and location will be posted very soon, so be sure to follow our social media sites.
Ezy Workforce and Education Partners
Phone: +63 977 785 8746 / +61 419 200 663
Email: info@ewep.com.au
Facebook:  https://www.facebook.com/profile.php?id=100087371763913